About
With 30 years of experience in tank transport, Distributions Carl Beaulac provides a professional and courteous service in the transportation of petroleum products, hot products, chemical products and aviation products.
Our strategic geographical location allows us to guarantee our customers an unbeatable speed of delivery. All our equipment meets the requirements of the industry and is meticulously inspected. We serve Quebec, Ontario and the Maritimes and our services are operational 24 hours a day, 7 days a week throughout the year.
Our Mission
To be the leader in the specialized tank transportation sector, recognized for providing a quality service, that is reliable and irreproachable, while respecting the highest standards of the transportation industry, but also for its skilled and well-rounded personnel.
Our Values
At Distributions Carl Beaulac, we are determined to put forward the values that drive us and that are essential to us. These values characterize who we are as a company, what we do, how we do it, and what sets us apart in our everyday lives. Our desire is to apply these values in the service we offer and in our relationships with our partners, employees and customers.
A personalized, remarkable and efficient customer service.
We listen to the needs of our customers and partners. We aspire to deliver suitable and quality solutions at a competitive price, while providing a personalized unparalleled and effective service.

Innovation
Complying with the current and emerging standards of the transportation industry is a core value of Distributions Carl Beaulac. In order to ensure a service that gives our customers the best possible return, we are always on the lookout for the latest state-of-the-art technologies in terms of our equipment and working methods.

Quality of the organization
Our future depends on the success of each employees. We recognize that it is the talents and contributions of each individual that enable us to excel. We encourage productivity and efficiency, and good quality work is rewarded with recognition and financial incentives. The constant desire to satisfy our customers requires the establishment of adapted working methods and a quality management policy.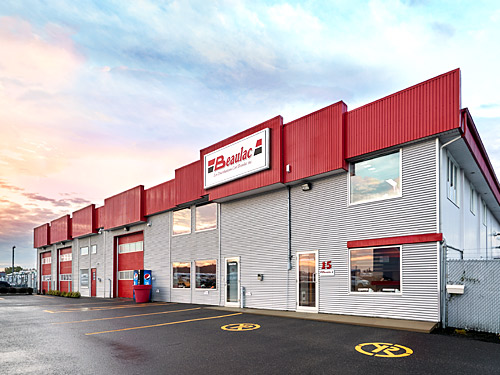 The Team
Distributions Carl Beaulac brings together a team of professionals devoted to offering the best service. Everyone's skills and expertise are heavily involved in order to achieve the best possible results for their clients.
CARL BEAULAC

President

VANESSA BEAULAC

General director

GILLES BLANCHETTE

Commercial director

DOMINIQUE GAGNON

Director of internal affairs

CYNTHIA TREMBLAY

Director of fleet operations

JESSIKA NOLET

Director of personnel
VANESSA BEAULAC
General director
GILLES BLANCHETTE
Commercial director
DOMINIQUE GAGNON
Director of internal affairs
CYNTHIA TREMBLAY
Director of fleet operations
JESSIKA NOLET
Director of personnel
Founded in 1988 in Chicoutimi following the purchase of two petroleum product delivery trucks for Texaco Canada, Distributions Carl Beaulac (DCB inc.) developed its expertise in tanker transport over the years.

Following the sale of Texaco Canada to Esso in 1991, DCB inc. continued to make long-distance transportation for two years on behalf of Goyette Transport, while adding trucks to its fleet.
Two years later, after completing the two-year non-compete clause, DCB inc. became an independent distributor following the purchase of a ten-wheeled truck for fuel oil transportation. The company stands out with its personalized service and fast delivery, meeting the highest quality standards in the industry.
In 1995, the company acquired two gas stations in the Saguenay region and began to do tank transport for the Huiles du Royaume. Three years later, following a major oil price war against independent gas retailers, the company closed both stations and sold its fuel oil delivery trucks.
By adding tanker trucks to transport bunker for paper mills and bitumen on behalf of Inter-Cité Construction in the early 2000s, the company continued to grow and already employed 15 people.

Following a decline in demand for paper and the closure of Abitibi-Consolidated's facilities in 2004, and while distribution of petroleum products is only expanding at Distributions Carl Beaulac, the company relocated its head office in Quebec City to get closer to the refineries. By its geographical location, it ensures to maintain and improve the quality and speed of its customer service.
30 years - Over 100 employees - A million thank yous!
Since its establishment in Quebec City, DCB has continued to deliver bitumen and petroleum products and expanded rapidly by purchasing companies such as TransHealth, Transport Pierre Thibault and Transport YDT, and with the arrival among its customers of companies such as; Le Groupe Harnois, Filgo, Michaud Petroleum, Nutrinor Sonic division, Valero, Parkland, Esso, Crevier, Sobey's and several others.
In 2014, the company expanded its facilities in Quebec City, which now have 150 trucks and trailer units and more than 100 employees.
The company continued its expansion during the year 2015, with the purchase of Transport Charles Giguère and became a 50% partner of 7/24 express. This year, the company also installed the ISAAC fleet management system (telemetry system) to improve its operations, ensure compliance with regulations and provide greater safety for drivers. That same year, the acquisition of a new building in Chicoutimi enabled them to add a terminal to better serve northern Quebec. All these changes, as well as the major overhaul of their computer network in early 2017 confirm the willingness to always offer better service throughout Quebec.
To this day, Distributions Carl Beaulac is synonymous with quality and trust in the petroleum transportation industry in Quebec.
OUR SUBSIDIARIES